Written by: Marc-André Quessy
The nice season is back! And your beast has been in storage since last winter, right? It's time to go back to and enjoy the trails. YEAH! But not so quickly! Have you given any thought to prepare your machine for return to action?
If you stored your machine properly (see the blog here), this will not be very long. First and foremost, before even moving it, you must check and adjust the tires' air pressure. It is recommended to inflate your tires to the maximum pressure listed on the tire to avoid flat spots during storage.
Before the first start, check the ground for traces of oil/fluid leaks. If you see a leak, please go to your dealer as soon as possible.
Check the engine oil level and correct if necessary. Disconnect the maintenance charger and start the engine. Let the engine idle until the radiator fan starts working. In the meantime, pay attention to potential oil and/or coolant leaks. You must let the engine idle in order to pressurize and detect possible leaks under pressure. This is only for preventative maintenance purposes, because leaks are rather rare; but it would be better to detect a leak sooner than later, as it will be much cheaper to repair, take my mechanic's word for it!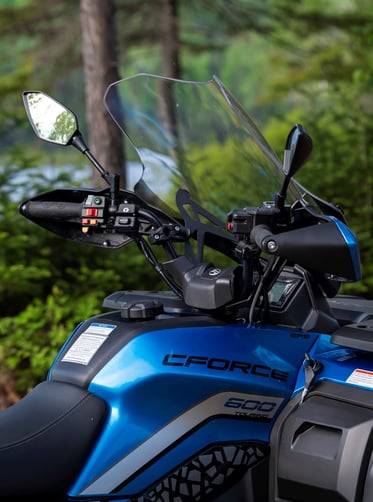 It's time to take out your oilcan and to lubricate all moving parts such as handbrake levers, pedals, and door hinges (if necessary). It's also the perfect time to get your grease gun and lubricate the suspension and driving parts, using fresh grease.
If you have enough space around, a quick driving test would be a good idea to ensure the CVT drive belt, transmission and drive shafts are working properly. Do a few brake tests to check the brake levers on your quad, or the brake pedals on your side-by-side, to ensure they operate properly. If the levers or pedals feel spongy (little or no resistance), this could be the sign of a slight leak – some air entered the braking system. If this is the case, going to your dealer is essential to find out the exact cause and to address it. It's probably not a big issue, but brakes that function correctly are important for your safety.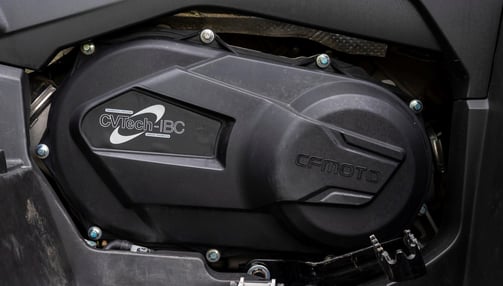 To conclude, a good washing using a quality soap and a clean mitt will make your vehicle look great again. Why the mitt? It's something I have been using for a long time: it gives you the opportunity to access all those body parts and detect an unseen damage (or damage you did not notice previously), or missing fixtures, or panels that need to be attached correctly. Also, don't forget to check your tires.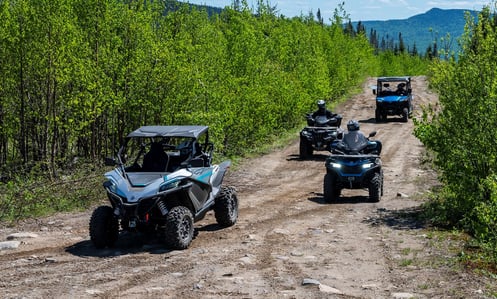 This preventive procedure might seem tedious but taking the time to find out how your ATV or side-by-side will perform on the trails is crucial. In fact, above-mentioned potential issues would ruin a car within minutes. Breakage or wear are then inevitable. It's wise to act preventively in order to maximize your safe enjoyment on trails, and to minimize breakdowns which could have been avoided with minimum prevention.


Voilà! You are ready to go and discover new trails and adventures!
Have a great summer!