Milan, Italy 2019.
CFMOTO created a big surprise for visitors of the EICMA Show with their Evolution A prototype, a 100% electric quad. With its futuristic design and electric equipment, this prototype proves that CFMOTO is able to offer contemporary and ground-breaking technological solutions.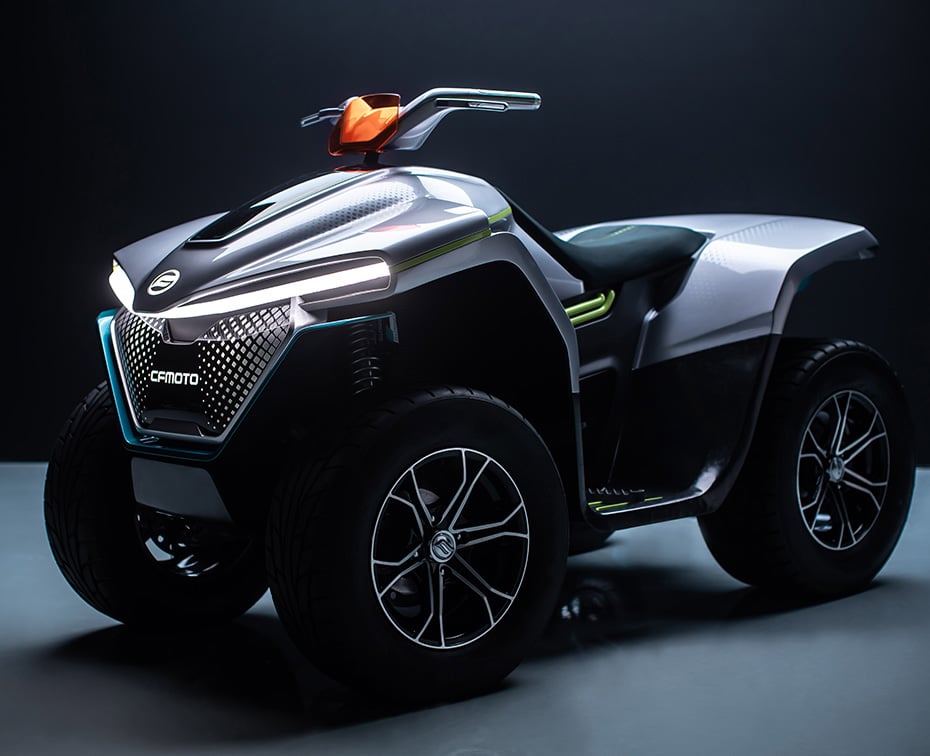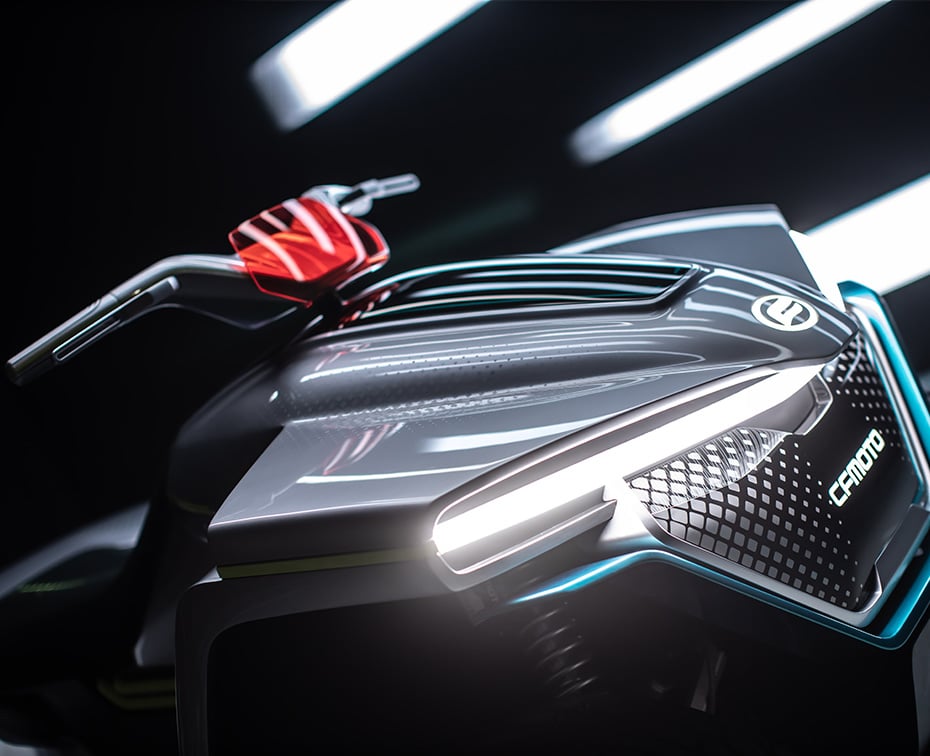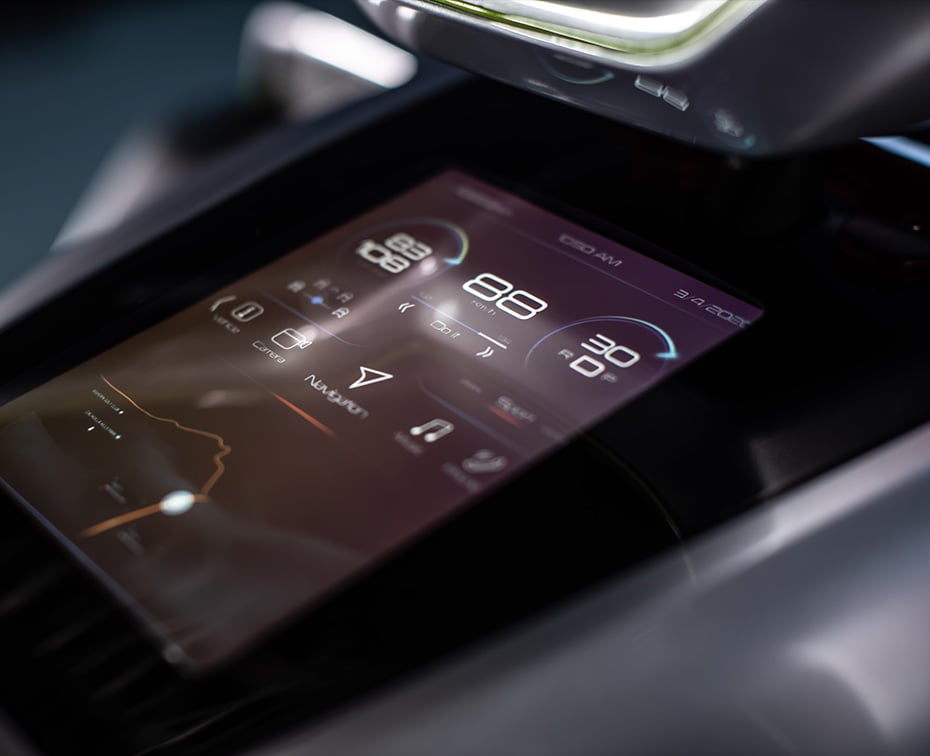 Evolution A is currently being refined and tested before the start of production and its launch on the world market. We will be pleased to give our readers more information soon.
What actually is the future of electric power sports in Canada? CFMOTO Canada has addressed the issue by questioning a few of its associates.
Marc-André Quessy, ATVGUYS

"In the short term, it is difficult to believe that off-road electric vehicles will take up a large part of the market. The technology is still in its infancy because of the following:
Charging time is too long
Low battery life
Lack (or total absence) of vehicle quick charging stations
These three items will most likely slow quad drivers' enthusiasm.

It is no coincidence that most brands develop utility-type vehicles first, because they travel over short distances more than an ATV or side-by-side vehicle that is mainly riding on trails, for example. They would have easier access to a vehicle charging station. In addition, those who have engaged in power sports for a long time love the sound of the gas-powered engine, the driving feeling and even the fuel smell of their machines. However, we must keep an open mind and the technology being developed is more and more impressive. Within a few years, the technological advances could surprise us!"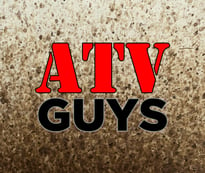 ---
Cyndi Martin, co-owner Chicks and Machines
"People are always skittish about changes and new technologies. For now, electric vehicles in general do not have an interesting driving range and charging stations are lacking, but I am convinced that over time we will see evolution. I am sure the future lies in transportation electrification! We must all support environmental action in all sectors, and power sports are no exception."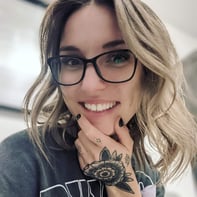 ---
Vernon Putzer, Dirt Trax Online
"First, we really appreciate the simplicity of Electric motors. With far less moving parts and less areas requiring maintenance owning an electric vehicle is easier to maintain. This attribute alone is a huge advantage for new entrants into the powersport market who are unsure and uncomfortable about performing maintenance on their own. No more worrying about cleaning air filters, changing oil, adjusting cams, hauling around separate fuel cans, etc.
The other attribute is the completely new experience you feel. Power-wise, many of the electric vehicles entering the market are close to the horsepower rating of equivalent gas-powered vehicles. However, torque is typically significantly more. The degree in which electric vehicles accelerate is exhilarating. Add this to the newfound appreciation of listening to your surroundings due to the ultra low vehicle noise and the overall experience is really cool.
The biggest challenge facing the new crop of electric powersport vehicles is range and charge time. This likely isn't as big of concern for new entrants into the market as we don't believe they will be venturing far from their home base such as their cottage or just not being interested in long drawn-out adventures. For those die-hard enthusiasts already in the sport riding a gas-powered vehicle, they want to maximize the time available to use their machine. Power use also drains the battery more quickly, so individuals that like riding mud or tackling rough terrain will run through the available power pretty quickly.
In order to charge electric vehicles quickly you need 240V service and available space in the electrical panel for at-least a 30Amp breaker. Charging from a complete flat battery still takes a couple hours with some of the best charges available. Thus, range and charge time remain the biggest obstacle to overcome more widespread acceptance. This being said, we love how technology is developing at an exponential rate. We're also not ignorant to the growth and popularity and are excited to see what comes about electric powersport vehicles in the near future."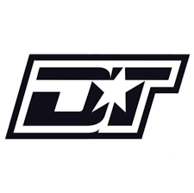 ---
As for you, what do you think?