In our last blog article, we shared with you a summarized history of CFMOTO, from its beginnings until today. If CFMOTO has been able to take its place in the powersports world, it is through the dedication of its distribution network in over 100 countries and its 2000 dealerships.
For the Canadian market, it's to the Canada Motor Importation (CMI) team, owned by Hélène Binet and her husband Carl Patoine that CFMOTO put its trust in 2006 to distribute and make its products known throughout the country.
A complementary duo
Carl and Hélène met in 1993. They created a family with 3 children, but also a business partnership where each one's strengths would be highlighted.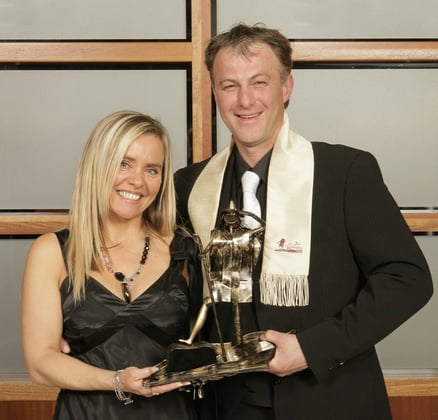 Photo credit: EnBeauce.com (Francis Quirion)
Her – Hélène
Skilled in accounting, finance and international trade.
Him – Carl
Former motorcycle and snowmobile racing competitor. An enthusiast of all types of racing cars with an entrepreneur's soul. Skilled in sales and marketing.
Then, in 2003 Hélène launched this idea: we must import vehicles! Following a brief adventure importing a Vietnamese ATV brand, which was not successful, the two entrepreneurs held their heads high and in 2005 left for the Eicma Exhibition in Milan (the world's biggest recreational industry exhibition) hoping to find a new brand to distribute. Among some 100 products, their choice was CFMOTO, the only brand equipped with a 4x4 ATV. After testing the models and visiting the CFMOTO facilities in Hangzou, Carl and Hélène saw the development potential in this brand. The adventure began!
Continuous product development and no compromise
Since the arrival of CFMOTO vehicles on Canadian soil to this day, Carl and Hélène have invested time and money improving the products to make them vehicles tailored to the Canadian market.
Improvement continues and is at the top of their priorities. For example, when the CFMOTO models arrived in Canada, Carl quickly suspected a deficiency in the clutch mechanism. Wasting no time, he contacted a Quebec company, CVTECH, to develop a new system to be integrated into the CFMOTO vehicles for the Canadian market. The quality of the product largely exceeded Canada's borders and today, all CFMOTO vehicles in the world are equipped with CVTECH clutch systems!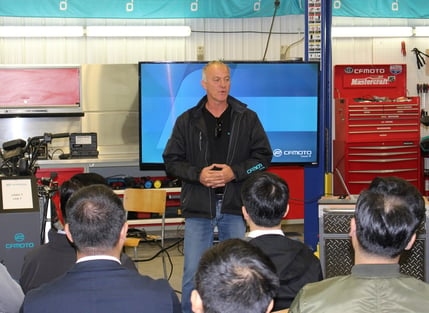 Carl Patoine presenting CFMOTO Canada to guests at CMI premises in 2019
It has now been 15 years that CMI is distributing CFMOTO products in Canada. A sinuous road sometimes, but at no time did it chill the enthusiasm of the co-owner couple. "We build our reputation on honesty and transparency with our partners so they may feel comfortable with us. That is why many follow us in our adventure. To do this, we must gain their respect by delivering the goods!"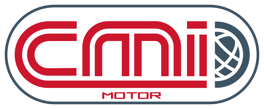 Today, the Canadian distribution network has close to 100 dealerships all over the country. CFMOTO is the only brand with a 5-year warranty on the market and stands out thanks to a slew of equipment and accessories sold when the vehicle is purchased.